As consumer behaviours change, we need to find new ways to influence their purchase decisions. Leveraging big data is one way to do that. But what happens when the data is too big to handle? Call machine learning to the rescue. This field of computer science has developed new methods to "teach" the machines.
Instead of programming the instructions, you can teach an algorithm to learn directly from experience or from examples presented in the form of data. In basic terms, you could teach the machine what an ideal lead looks like and it would then list the best matches from thousands of "candidates" in minutes, rather than days.
What machine learning can do for marketers
The use of machine learning in marketing already goes well beyond the transformations in search engine algorithms and the ways we optimise for them. Google and Facebook use a certain degree of machine learning to help us create better campaigns. Embracing the new tools, however, is just the tip of the iceberg. The true power of machine learning goes deeper than that.
Personalised advertising
The modern consumer wants content and messages that resonate with them on a personal level. For instance, this could mean displaying dynamic creative copy based on stored information about a website visitor or pushing a personalised offer to match a momentary surge in demand.
According to IDC data, machine learning has already enabled most of that: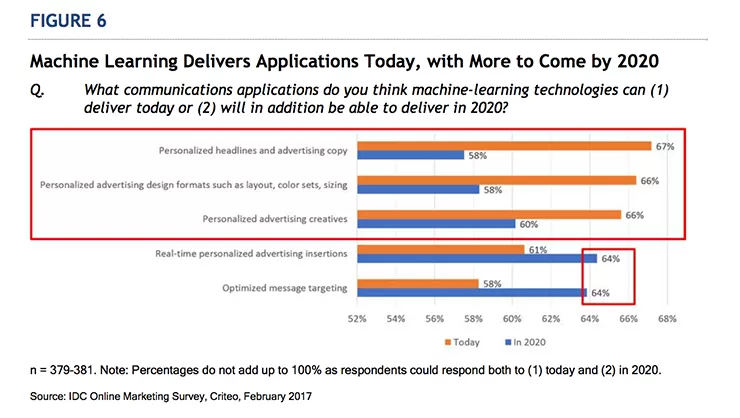 Comprehensive customer insights
Machine learning makes big data accessible and transforms the vast array of details you store about your customers into actionable steps you can take right now. The best part is that once the algorithms are set, data collection, processing and analysis will occur automatically and progressively improve over time as the algorithm learns.
You can use the technology to create more relevant up-sell/cross-sell offers, to increase customer loyalty and to identify the bottlenecks in your sales funnel for certain types of customers.
Advanced analysis
We often confuse "more data" with better decision-making. Instead of honing our analysis skills, we focus on hoarding more data. The problem is that big data often gets jammed in all the wrong places. In fact, only 23% of business leaders rate their organisation as "extremely successful" in leveraging it.
Machine learning is that "superpower" to enable efficient data processing at scale. The modern ML-algorithms are capable of spotting repeating patterns that a human eye will likely overlook. SEO is one area that benefits from using machine learning as marketers no longer need to assemble the same weekly reports over and over again themselves, while potentially overlooking valuable insights.
Related reading: Find out how we're doing this with Apollo Insights
How to get started with machine learning
Machine learning is no longer reserved for big name brands with bottomless budgets. Marketers of all backgrounds can introduce a certain degree of machine learning to their workflows. To achieve tangible results though, you'll have to work on your machine learning strategy first.
The best way to go about this is backwards. State your end objectives first – that is what you want to achieve as the final result. Let's say you want to improve the number of pages viewed per session from 2.5 to 4.3 pages on average.
Find out why an average user views less than three pages per session. Analyse the typical journey and pin down the bottlenecks. Now you know that a lot of buyers feel overwhelmed with the current navigation and give up browsing due to the lack of personalised offers/content.
Chatbots help create a more streamlined experience and shorten the path to purchase in e-commerce. An ML-powered algorithm can collect and store data about the customer's preferences, such as typical product price range, and favourite brands and use that data to pitch highly-relevant offers and deliver more accurate suggestions over time. Now, that should increase the number of average pages viewed!
Next, you will want to better engage with new prospects landing on your website after clicking an ad. Personally, I feel frustrated when a social ad shows me a lovely pair of discounted sandals, but, once I click through, the website features nothing but winter shoes.
The quick fix here may be using a tool like Optimizely X — a "smart" extension that can optimise your content in real-time based on different "micro-moments" the customer has already experienced. For instance, it could enable you to show the winter collection to shoppers from the north and summer garments to those in the southern hemisphere, as well as instantly reminding visitors of abandoned baskets or steering them towards new offers that they haven't seen yet. This is just one example of how a minimal machine learning stack can be integrated into your workflow.